Water Plenty
First ISO 9001:2008 Borewell Drilling Company in India operational in Kerala
About
Us
Solid solution for your Liquid Problem
Indus Geotech is in the drilling business for 30+ years. Since we are led by qualified geologists from its inception in 1991 or every project is supervised from a geological perspective. With our high level of service and on-time completion, we are known as the best borewell drilling company in Kerala. Till now we have completed 13000+ borewells for domestic, industrial and agriculture requirements in and around Kerala. We ensure customer satisfaction by providing services at affordable pricing.
Years of Glorious Service
Our
Services
Professional Services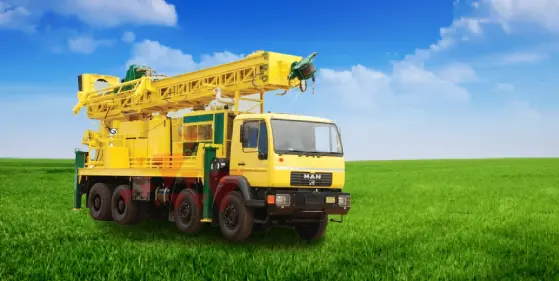 Borewell & Tubewell Drilling
Over 30 years of Borewell Drilling water statistics, Indus Geotech has accumulated a wealth of information about rock patterns, water quality, water quantity and depth of fluctuations in each area. Our borewell drilling services are preferred by many clients to cater for their various domestic, industrial, commercial, agricultural, construction and municipal applications. We are proud to say that we have never disappointed our clients, who trust us for the best borewell drilling service experience in all kinds of drilling operations who work 24/7 to bring about the best results for you.
Geological Survey
We ensure the best borewell geoscanning in Kerala to provide an accurate ground-based electronic resistance scanner specifically designed for our part of the information study called GEOSCAN. To understand more about drilling borewell and tubewell, we need to understand certain factors such as lithology, fracture zones and flow of groundwater. Our team comprises of technically qualified and experienced geologists and technocrats who have decades of experience in delivering accurate results.
Pumps & Pipes
We sell, install and service all brands of borewell submersible pumps and fully automatic submersible pumps, casing pipes, column pipes, submersible cables, fittings and accessories. Pump selection is a prime factor in extracting the efficiency of a borewell by selecting the right horsepower (hp), the correct number of stages, and the depth at which the pump should rest (head). These characteristics are fully met by our technical team perfectly, thereby imparting value for money to the customer. Indus Geotech provides the best borewell drilling services in Kerala which provide both residential and commercial borewell drilling services.
Water Treatment Plants
Since almost 70% of human body is comprised of water, the best way of being healthy is to drink the purest form of water. Unfortunately the water we are consuming contains unhealthy components like high TDS, bacteriological contamination, low pH, high iron, etc. In order to remove all these contamination, we have to treat the water by installing a proper water treatment system irrespective of whether it is well water, municipal supply, or borewell water. We, the top borewell water treatment in Trivandrum, provides the best, most affordable, and most durable water treatment equipment. We have a special water treatment division known as H20 to oversee all operations and to provide quality service to our customers. You can count on us to be present at all times, working diligently with you. We also provide alkaline water purifiers which are helpful in keeping our body alkaline rather than keeping on acidic which is the major cause of all ailments. In Indus Geotech, our team of technicians possesses expertise in providing quality service to our clients. We use the latest technology and instruments to fulfill the needs of our customers.
Office Address
TC:10/630(3),Pumphouse,Mannanthala,
Thiruvananthapuram,Kerala,India
695015
Call Us
General Enquiries
What is the maximum drilling depth permissible in Kerala?
Depth of borewell drilling is determined by a detailed analysis that takes into account the depth and the occurrence of breakdown of existing resources in the area. As part of groundwater management, this is used to keep the groundwater regime balanced. Excavation is usually done 60-100 meters below ground level in Kerala. However, the depth of excavation varies from place to place. As a result, field validation is used to reinforce the depth recommendation based on local heterogeneity and hydrogeological status. If you are looking for borewell drilling services in Kerala, then you have landed at the right place. We, Indus Geotech is one of the best borewell drilling company in Kerala.
Is there any permission required for drilling borewells?
The Department of Groundwater is the main government agency for groundwater monitoring and development. Before mining can begin, all government departments must assess the feasibility of a groundwater department. Amendments to the Kerala Construction Act 93 (a) make it mandatory to obtain approval from the Department of Groundwater Development before issuing permits for the construction of wells / tubes. The specified permit is nothing other than a certificate of feasibility issued by the department following surveys targeting existing users in the region and other hydrogeological variables in the area. The location of the excavation, the width of the well, and the depth to be excavated can all be recommended in the feasibility study. We provides the best borewell drilling works in Trivandrum
Is it possible to clean a borewell/tubewell?
The yield of borewells and tubewells decline over time when they are continuously used. There would be clogging of well screens in tubewells and also the cementing of clay particles in the event of a limited number of fractures. In some cases, the transient flow within the pipes can result in particles of silt and sand being dropped into the well, thus reducing its yield and making pumping difficult. Water jetting or pressure injection, also known as flushing, are used to clean the well. We have proved to become the tubewell construction in Trivandrum providing the best borewell drilling service in Trivandrum.
How will I know the borewell's yield?
Pump test is used to determine the source yield. It is used to determine how much groundwater can be pumped from a well and how pumping will affect the groundwater and nearby springs. Pump testing with different types of sources can be performed using a variety of methods and methods. The groundwater department has four pumping test units to perform pumping of various types of wells. A good yield test is usually done during the dry season to get the most accurate results. As a leading borewell drilling company in Kerala, we offer several services like construction of both borewells and tubewells as well as in the installation of suitable Pumping Systems, Water Treatment Plants, conducting Geophysical Survey, Water Analysis, Calyx & Rotary Piling etc.
Are there any rules about how far apart Bore and Open wells should be?
In Kerala, there are no distance requirements between boreholes and open wells. Groundwater research, which is required for all resource constructions, is used to find resources scientifically based on the location of groundwater. In order to conserve the source of the public water supply system, approval from the Groundwater Authority is required before drilling a new source within 30 meters of any exciting drinking water source for public use. If you are facing any problem with your borewell, then you can contact us. We are the best borewell contractors in Trivandrum with high quality, timely execution, and customer satisfaction.
How is the Borewell Pump Installation done?
In borewell drilling work - one of the main methods of drilling involves the installation of a borewell pump. Borewell submersible pumps are completely immersed in water with an air tight seal. Borewell drilling and setting of borewell pumps are particularly needed for agricultural irrigation needs, industries, residential water needs, and much more. We will provide you with the top borewell water analysis in Trivandrum. Our experts have handled hundreds of projects with equipment and tools that can drill deeper and in a more focused manner. You will get excellent service, at competitive prices.